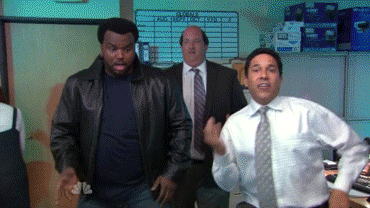 Happy Friday everyone! The weekend is almost here and the idea of not working for the next two days is starting to get me excited. Well, that would be more true if I wasn't covering for a co-worker this weekend. Oh well! I can relax when I'm 70. For my first Top-5, I figured I would start with a classic TV show: The Office. The show aired for almost 10-years and followed a group of everyday employees at a paper company in Scranton, PA. How a paper company survived that long is beyond me, but it made for quite the show. This mockumentary succeeded in telling the stories of dozens of unique characters and captured their humorous, bizarre and cringeworthy moments. 
The Office had an amazing cast of leading and supporting characters (other than Ryan - he was the worst). The unique and diverse gallery made for a show worth watching for the better part of a decade. Now I'm here today to rank the Top-5 Office characters. Was it easy? Not in the slightest. Outside of Ryan (who sucked) each character had moments that made them worthy of a Top-5 inclusion. I know some of you will have differing opinions and may even be upset with my rankings, but that's okay! I'm confident in my list and will put it up against anything y'all can throw at me! With that... 
5) Andy Bernard - The Nard-Dog may have been higher on the list had it not been for the selfish dick he turned into season 9. Andy has his fair share of problems (especially with his family) but his love for a capella singing and odd nicknames made him an easy guy to root for. Andy busting out his falsetto and banjo in hopes of wooing Pam was one of the funnier scenes in the show. The guy had a rough upbringing. His parents changed his name when he was 6 because they felt his younger brother deserved the name more. Ouch. Boner Champ failed hard at a lot of things, but making us laugh wasn't one of them.
4) Jim Halpert - This charming jokester was a staple of the show from the beginning. He never shied away from playing a prank on Dwight or giving the camera a sly smile or shrug. Jim started the show by putting Dwight's stapler in jello and continued to take it to new levels. He faxed Dwight letters from the future, wrapped his desk in Christmas wrap, tricked him into fighting himself and put all his desk items in the vending machine. There was also quad desk, William M. Buttlicker and even Pavlov's theory. Big Tuna also sat next to the love of his life and after years of flirting, was finally able to get the girl.  Bears. Beets. Battlestar Galactica.
3) Dwight K. Schrute - Has there ever been a better or more loyal Assistant to the Regional Manager in the history of the world? I don't think so. Dwight's naivety and odd upbringing made him the center of Jim's pranks for years. The volunteer policeman was always at the center of Michael's shenanigans, but was rarely shown love from his boss. He shot a gun in the office, almost killed Stanley during a fire drill and casually hides weapons around the office. Dwight is an idiot, but one that you want by your side when it's time to harvest the beets.
2) Michael Scott - The clueless manager of Dunder Mifflin checks in at number 2. Michael provided some of the funniest (The Dinner Party) and most cringeworthy (Scott's Tots) moments of the entire series. He loved creating new words and even hit Meredith with his car. He is the definition of ridiculous and way overestimated his ability to connect with his employees. But somehow - his branch was always the top selling one in the company. The last two seasons were never as good without him, but his send off with Holly was hard earned. And yes, that is what she said. 
 1) Creed Bratton - No Office character stole more scenes than Creed Bratton. The enigma of the show was never a main focus, but when he took the stage - it was pure gold. He was both the leader and the follower of a cult, lived to scuba, most definitely murdered a guy and couldn't remember anyone's name in the office (probably from all the drugs). By the end of the show - Creed was arrested for faking his own death in order to escape the police. He was also a member of The Grass Roots in the 60s. But knowing Creed, it could have all been a lie!
So that's my Top-5 Office characters. Comment below with your lists and let's see how you stack up!  
Please reload